Everybody talks about SEO, but do you really know what makes a content designed for SEO?
Writing for the Web requires both editorial and technical skills. If you want your content to be visible on search engines, it has to be optimised, especially by using keywords. SEO content is intended for both robots and Internet users. Here is a quick overview of the expected qualities of an SEO content.
What is SEO content?
A content brings together all kinds of information (text, images, videos) intended for an Internet user. In the marketing field, there are different types of content:
Web content
SEO-focused Web content
Emailing
Print
Video
Podcast
Etc.
SEO, which stands for Search Engine Optimisation, is the optimisation of pages on search engines through organic referencing. It is a leverage to improve the visibility of your content.
What makes SEO content different from other content?
An SEO content is a content optimised for Web users and search engines. But, although optimisation for robots is essential for SEO, we mustn't forget that a Web editor writes for humans behind their screens. Therefore, SEO content must be fluid and respond to search intents through a specific marketing approach.
The secret of a successful SEO content? It must be able to seduce the reader as well as the robot.
Why rely on SEO for your content?
The implementation of an SEO strategy for your editorial content allows you to :
Increase the relevance of your site thanks to valuable content that is displayed in the SERPs
Acquire organic traffic
Offer a high-quality user experience by responding to search intents
In other words, if you want to improve your website's organic ranking, focusing your content strategy on SEO will allow you to reach Web users.
What types of content can be found in SEO?
Good news, all content can be optimised!
Blog posts
Website landing pages
Product pages
Category pages
Website homepages
FAQs
Etc.
It is important to know that search engine robots only read text on Web content and cannot read images or videos. This is why semantic optimisation is mostly done on text. Nevertheless, it is important to add descriptions to images (using the ALT attribute for instance). These are included in the source code of the page.
And finally, the page itself must be designed to be SEO optimised, meaning that it must be designed in such a way as to facilitate the crawler's visit as regards its layout, the technology used, its loading time, etc.
SEO content writing: just a matter of keywords?
A keyword is a precise term that the user will use when searching on a search engine. It is therefore important to write content around the right topics, but also to choose those topics using the right tools, by putting yourself in the user's shoes. This is what is known as search intent.
There are three main types of search intent, each of which reflects the user's needs:
Commercial search
Informational search
Transactional search
Tools such as YourText.Guru provide a wider range of search intents being used by search engines. This is a useful resource for creating content.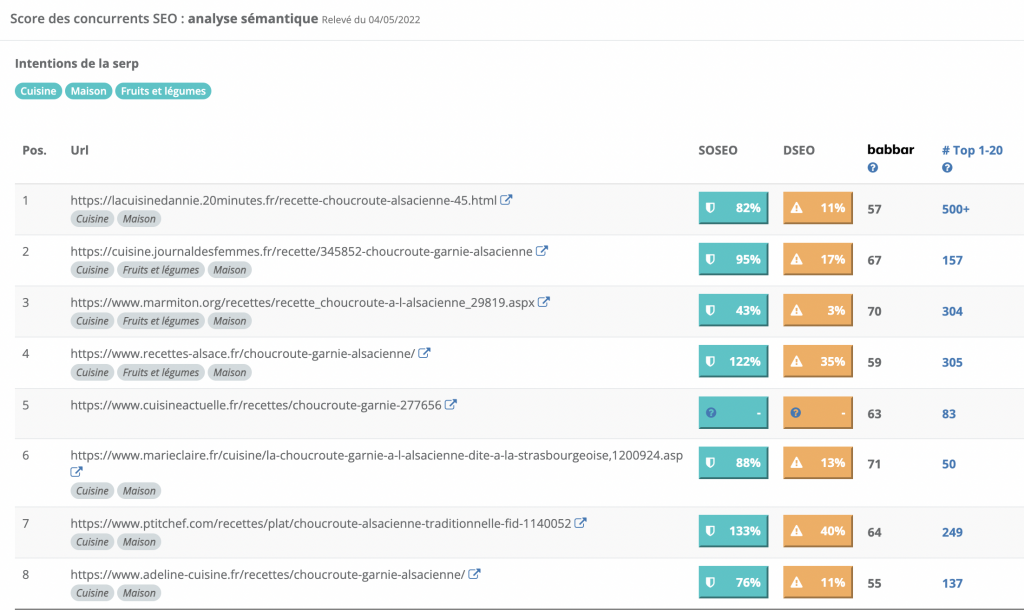 SERP intent for « sauerkraut recipe » in YourText.Guru
To help you identify the questions most frequently asked by users, Google has created the « people also ask » (PAA) feature. Easily noticeable thanks to their featured snippet format, PAAs make it possible to identify at a glance the most relevant topics to be covered.

All of this requires some thought beforehand, but it will enable your page to be displayed more quickly at the top of the results on the SERPs.
The main and secondary keywords, to be effective, need to be strategically placed throughout the text:
In the Title tag
In the meta description
In the H1 tag
In the H2 tags
In the links
In the description and title of images
The meta description has, in theory, no influence on the final ranking of a content on the SERPs. On the other hand, it does increase the click-through rate, so think about it!
Our advice: check that your title and meta description tags are unique. This will allow you to avoid internal duplicate content.
Now that we have seen what is SEO content, keep on analysing your optimisations to steadily enhance your website.
SEO Optimisation: content, and then what?
Focusing on content in SEO is good, but it's not systematically enough to optimise your SEO and rank high in search results.
Do you know the golden triangle of SEO? In addition to the « content » part, other aspects should not be overlooked, quite the opposite. These are the technical structure and link building.
Ultimately, what would optimised content be without microdata? Also known as « rich snippets », they allow you to enhance your content by tagging specific information intended for search engines. By indicating a date, duration, price or any other additional information, your content is more prominent, both for the users and the bots. A simple way to improve your click-through rate while working on your SEO!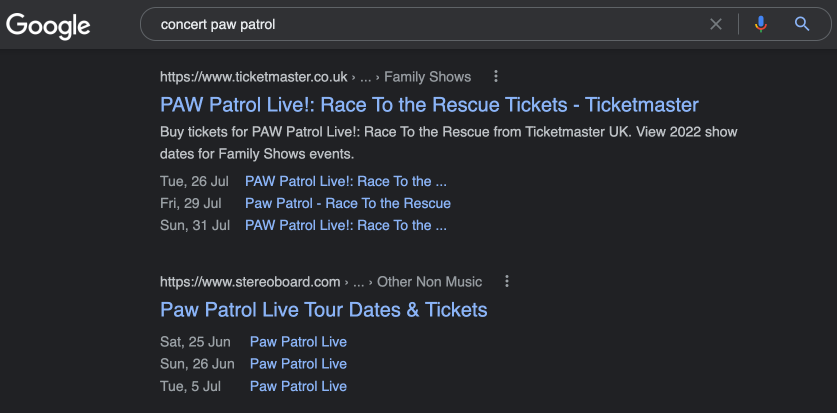 ---
Translated by Nicolas Piquero.
Nicolas Piquero is a seasoned SEO with 6 years experience. He worked as an in-house, agency and freelance SEO, with various major european companies. Being both a yourtext.guru and babbar.tech power user, it was obvious that he could be an ambassador for babbar's tools. So, being based in London, he is the first babbar ambassador for the UK.